About Clay Miniaturist: Cindy Teh!
"Truly Singapore's best macaroon tower maker!" - Joanne Teh a.k.a.loving Laduree"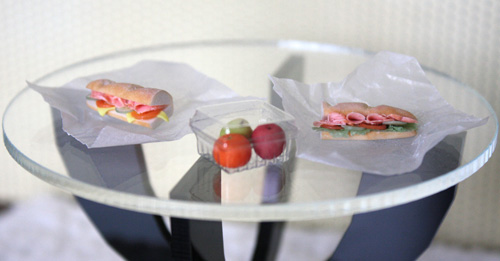 "Imagine my surprise when her package came ... amazed ... Speechless really ... awesome ... wow. It's like I won the lottery or something! - www.amazingminiatures.com"
"The art of cookie decorating can be difficult to master, especially when the cookies you're decorating are 1/12 the size of a normal cookie. Cindy Teh, miniature food artist extraordinaire, made these tiny cookies as a way to practice her piping skills - www.cmybacon.com"
These are just some of the numerous comments that Cindy's friends and fans have saying about her. It was and still is indeed a great honor and pleasure to have Cindy share her thoughts with our readers.
Please share with our readers your craft and how you started ?
Cindy: In late 2008, I was looking for miniature toys like Sylvanian family and came across a photo of donuts which was somehow very different from the usual "plasticky" types. I coudn't quite figure out what that was and asked the owner of the photo on Flickr. I bought some clay but the funny thing was the clay was left untouched for the whole month. I actually spent the whole month doing research on the various materials and methods. This was the time when I made many mistakes but I've overcome and learnt a lot along the way. For example, it took quite a while before I realised that my oven settings were off by 20 degrees. No wonder my clay miniatures ended up being too brittle!
"1-3 assorted sushi 2"
Did you know
that while ovens do come with temperature settings but because the wattage is different from home, office or a professional setup, this does affect the?actual baking temperature and how the clay cures. This is why you can't use toaster ovens for baking your clay miniatures; because the temperature fluctuactes a lot. Not only that, individual ovens also have their own temperament i.e. ?hot spots and cold spots. These are things every miniaturist picks up along the way. In April 2009, someone asked if she could buy one of my creations! That was my first sale and it gave me the confidence that maybe my work was good enough to sell! And a month later, I had my second sale!!!
What equipment do you use?
Cindy: There are many. But the most important is your imagination. As long it does not interact with the plasticizer in the polymer clay, almost anything can be a tool. That's why a lot of my tools are actually household materials!
Any tips for food miniature enthusiasts?
Cindy: A Clay Miniaturist need to be capable of independent thought, to find your own way to do things. While basic materials and tools are available, it is not always easy to get exactly what is specified in on-line tutorials and you'll frequently have to improvise. In fact, to me, this is what satisfies me most about being a clay miniaturist; to?successfully figure things out and overcome setbacks and obstacles by thinking out of the box. Things can often be used in ways that they were not orginally intended for. For example, using a coaster for a roof.
"If you look carefully at the roof, it is actually a coaster!"
Also, it is really important to Practice, Practice and Practice. I can tell you a thousand times how to execute a certain technique but until you start jumping in and getting wet, you won't be anywhere near getting the results you want.
"Looks yummy! I want one!"
For other Clay Miniatures related matters or events or workshops, please contact Support@MindChicClub.com
Where can people find out more about your works?
http://snowfern-clover.blogspot.com/